GenOne Architectural Group: AAC Credit Union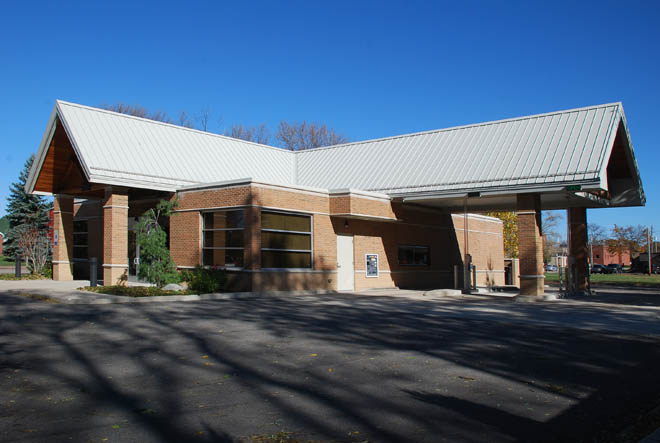 AAC Credit Union - Main Entrance and Auto Teller Line
Branch Bank for AAC Credit Union: AAC Credit Union is located on the east side of Zeeland, Michigan. The new structure consists of about 2,600 square feet of floor area with 4 Tellers Stations off the main lobby. There is also a Manager's Office, 3 Private Offices and and Conference Room off the Lobby.
The exterior materials consist of a light-toned brick base with darker brick above. There are several limestone accent bands and the roof is standing seam metal. Interior materials are carpet and tile floors, cherry base, painted gypsum board walls, wood trim at ceilings, windows and ooors and an exposed wood-truss ceiling with laminated wood decking.
Upon entering, customers are greeted with a rich, warm lobby filled with abundant wood detailing and soft up-lighting. The teller lines were rotated at a 45 degree angle toward the main entrance, giving an even more welcoming feeling to this hometown branch bank.
Building Facts:
AAC CREDIT UNION - PROJECT SCOPE - 4 TELLER LINES, LOBBY, MANAGERS OFFICE 3 PRIVATE OFFICE, CONFERENCE, 3 AUTO TELLER LANES
SIZE: 2,600 SF
COST: $560,000.00
STATUS: COMPLETED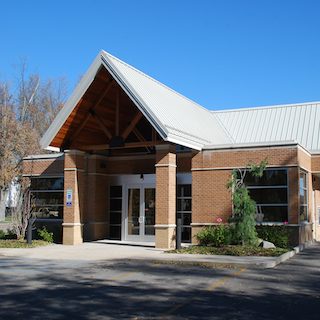 AAC Credit Union - Main Entrance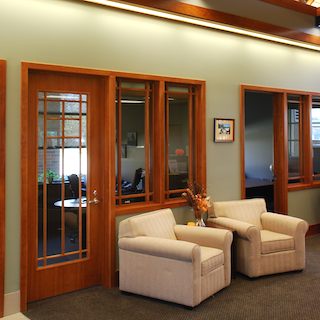 AAC Credit Union - Lobby
AAC Credit Union - Teller Line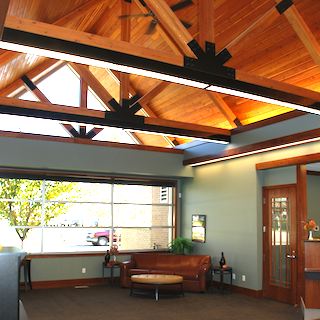 AAC Credit Union - Lobby