On the Boards: GenOne Architectural Commercial Projects
Here are some of the exciting commercial projects we are currently working on here at Gen1 Architectural Group:
New Craft Brewery - Sister Lakes, Michigan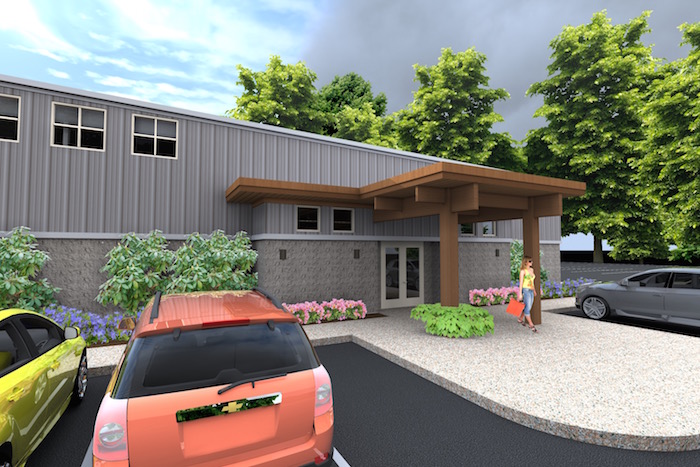 New Brewery Facility - Sister Lakes, MI
Status: Early Planning
Craft brewing is a juggernaut in Michigan with no signs of slowing down! Gen1 Architectural Group is proud to add this new brewery in Sisters Lakes, Michigan to our growing portfolio of innovative brewery designs.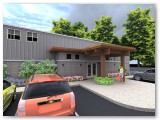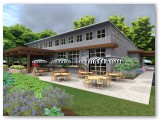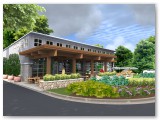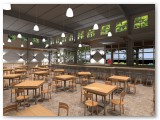 lightbox gallery para dreamweaver by VisualLightBox.com v6.0m
---
Brew Merchant - Holland, Michigan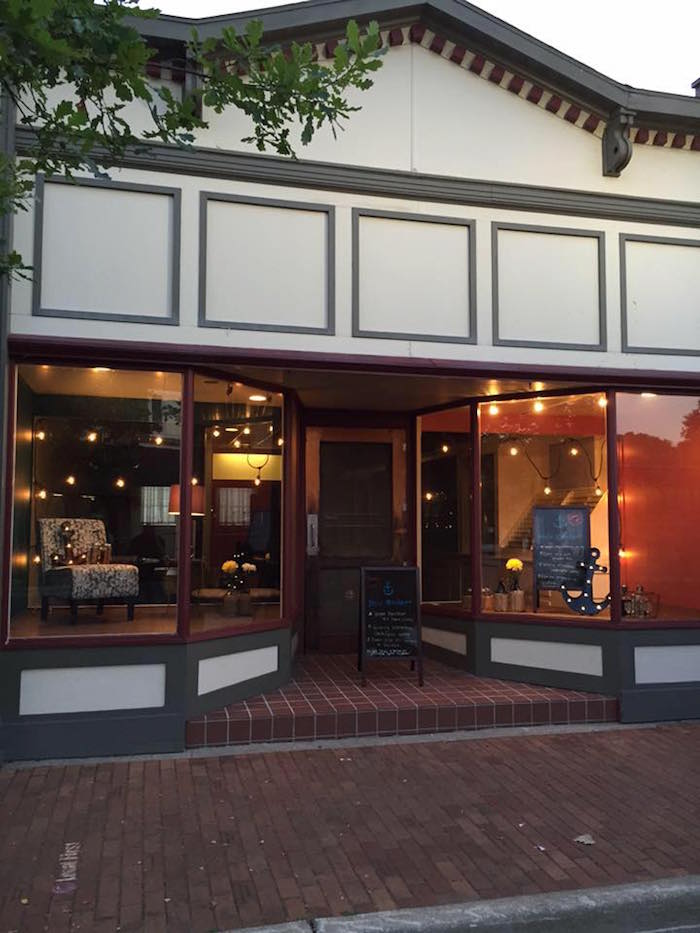 Brew Merchant Craft Beer Bar
Coming Soon!
A new custom renovation of an older structure for the new home of Brew Merchant, a Holland Michigan bar specializing in craft beers from around the nation. More info at https://www.facebook.com/brewmerchant/info/
---
Salvation Army Facilities - Holland, Michigan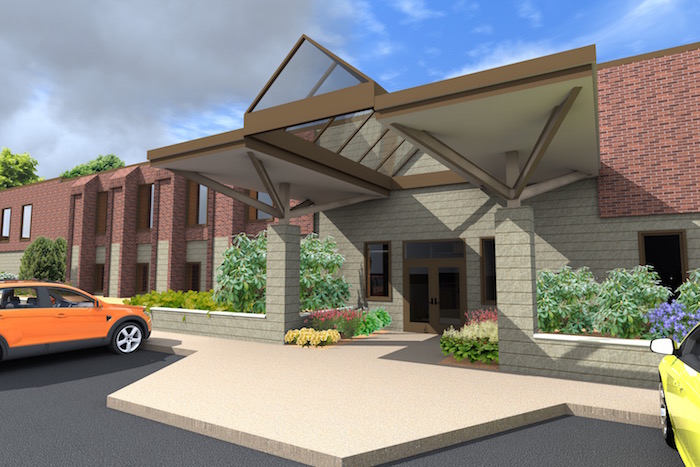 New Worship Center, Offices, Program Areas
Size: 37,000 S.F.
Estimated Cost: $2.55 million (approximate)
Status: Approved-Early Design Stage
Due to severe structural deterioration, the Holland, Michigan branch of the Salvation Army had to demolish their chapel facility several years ago. They have been actively pursuing opportunities to build a new facility, and have recently purchased a two-story, 37,000 square foot building , and plan to renovate it for their use.
The entire electrical infrastructure of this building has been removed after flood damage several years ago. Volunteers have removed other damaged materials from the structure over the past several months. The building, a former family fitness center, requires substantial work in order to bring it back up to code and allow it to be used by the Salvation Army.
GenOne Architectural Group has been hired to design plans for the recomplete renovation of the building. We will first carefully examine and review the current structure's overall condition. After evaluating the infrastructure (plumbing, electrical, HVAC, and fire protection), we will create a Site Utlilization Plan and new floor plans for the structure, as well as determining the actions necessary to bring the renovated building completely up to code.
GenOne Architectural Group services for the Salvation Army project will include complete design development and construction documentation, consisting of complete interior and exterior design and structural engineering.
We will also assist the construction team with budget reviews and on-site progress reviews as needed.
GenOne is excited to be working with the Salvation Army of Holland to realize their long-term dream of a beautiful new facility for worship services as well as the many programs they run to serve the needs of the community.
---
Office Building Complex - Concept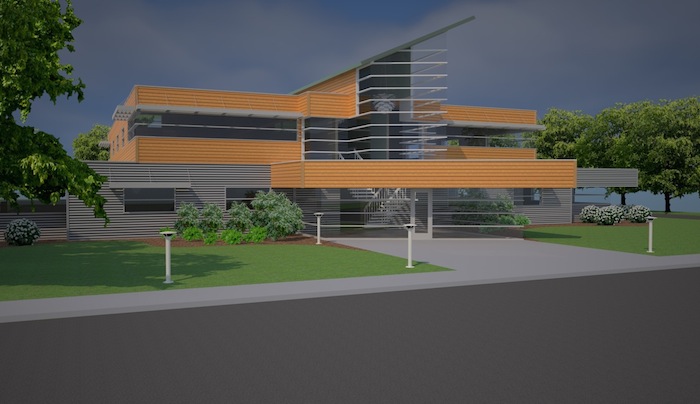 Gen1 Architectural Group has created these conceptual drawings to demonstrate our ability to create projects of any size. This innovative complex is approximately 22,000 square feet in size. The main level is 14,000 sq. ft., with the upper level containing 8,000 sq. ft. of office space.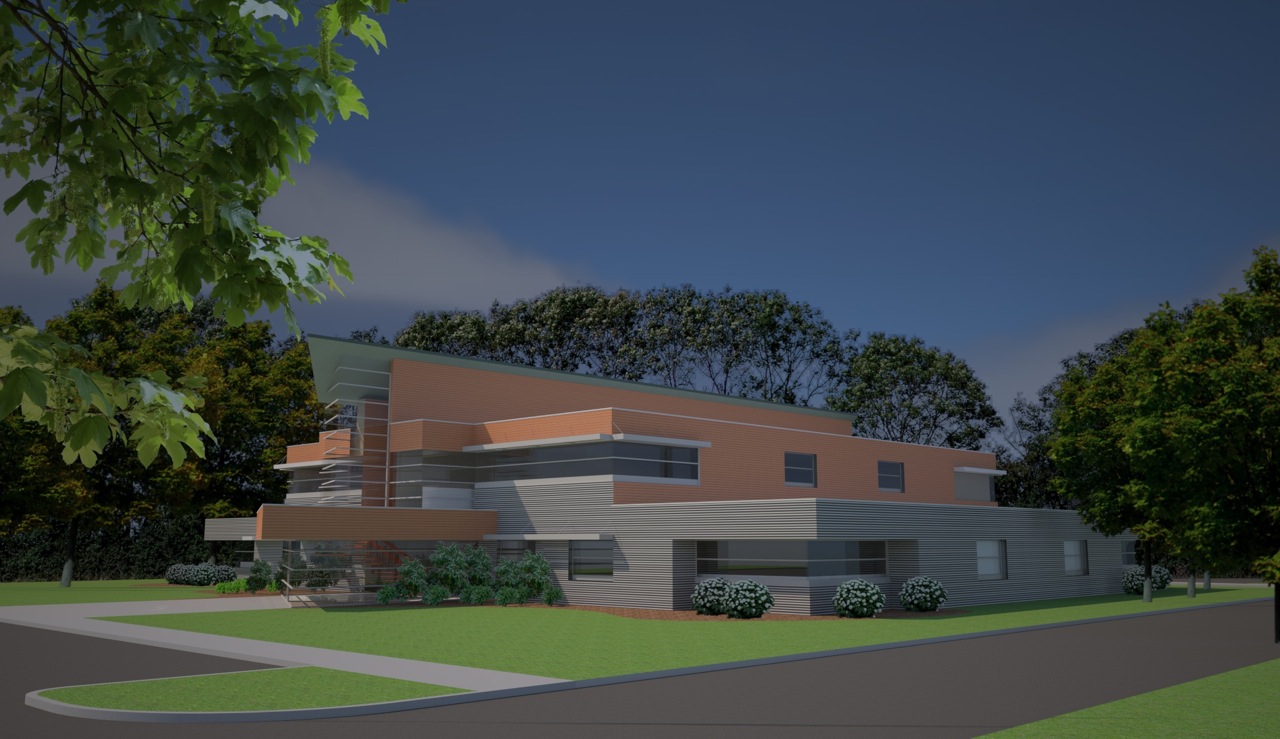 Size: 22,000 S.F.
Estimated Cost: $2.75 million (approximate)
Status: Conceptual Stage
---
South Shopping Center
Preliminary rendering work for a proposed shopping center.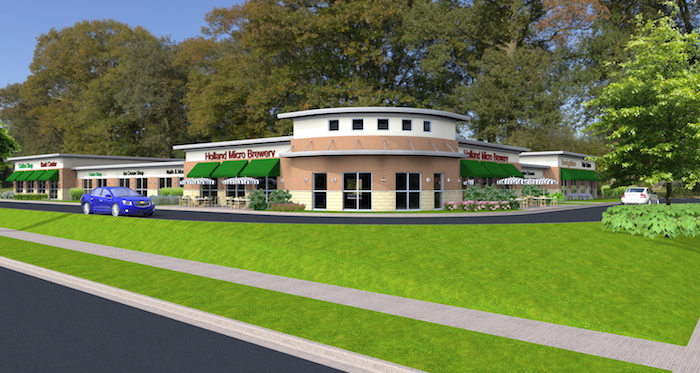 ---
Religious Building Expansion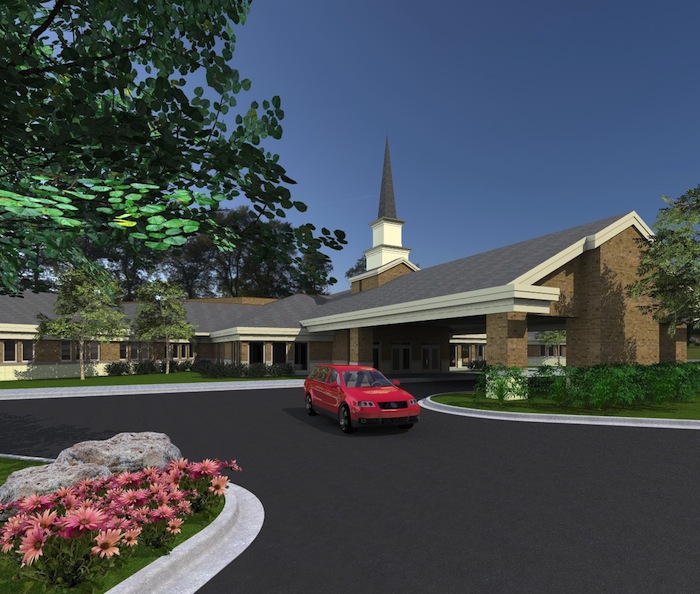 New Offices, Classrooms, Nursery, Youth Center
Size: 28,000 square feet
Estimated Cost: $3,500,000
Status: Active - Ready for congregational approval
Expansion to this local church facility was long overdue in order to expand their current facility with a totally new nursery wing containing infant and toddler nurseries, cubby space, a generous drop-off area, and storage and toilet facilities. To learn more about this new project, click HERE.
---
Auditorium & Support Facilities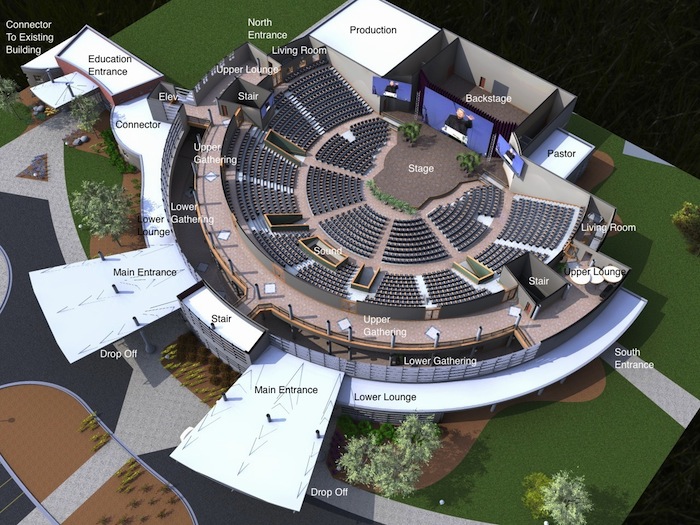 1,500 Seat Auditorium, Gathering Space, Production Area, Conference Rooms, Offices, Cafe and Living Rooms
Size: 52,000 square feet
Estimated Cost: $8,500,000 (Structure Only)
Status: Active - Fundraising
This major addition for a West Michigan church includes a 1,500 seat auditorium with high-tech production facilities, as well as new office spaces, conference rooms and Cafe. The dramatic auditorium is designed as a 210 degree arc, giving church-goers unrestricted and breathtaking views from any seat. To learn more about this design, click HERE.
---
Geneva Camp & Retreat Center - Holland, Michigan
Conference Rooms for 180, Entry Canopy, Lobby, Living Room, Opens & Private Offices, Break Room, Work Room, Elevator, ADA Toilets
Size: 16,000 S.F.
Estimated Cost: $2,400,000
Status: Active - Fundraising
This breathtaking new conference center will give a camp and retreat center much-needed conference space as well as new office areas. The 3 new conference rooms will provide room for almost 200 attendees, with enough flexibility to provide for a variety of different uses. This conference center will be a beautiful addition to an already stunning campus located near the shores of Lake Michigan. Click HERE to learn more about this new state-of-the-art facility.
---