GenOne Architectural Group: Boys & Girls Club of Greater Holland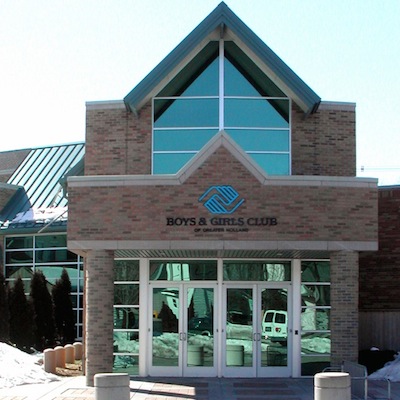 Boys & Girls Club of Great Holland - East Entrance
The Boys & Girls Club of Greater Holland: The site acquired for this eagerly-awaited community facility belonged to a church whose shrinking congregation was consolidating into other churches in the area. Its location allows the Greater Holland Boys & Girls Club to be placed directly in the community it's designed to serve.
The existing church building was carefully incorporated into the new addition, which contains a full-size gymnasium with showers and restrooms, a fully operational kitchen, large dual lobby, reception and lounge area and several new offices.
Existing church offices and fellowship areas were converted into club administrative offices, art and technology rooms, game rooms, club meeting rooms and a conference room for its Board of Directors. The existing sanctuary has recently been converted into a Teen Center for the older Club members who typically have left the club for lack of their own space to hang out in.
This building was carefully designed to fit into the surrounding community and blend with the existing church structure that remains at its core. The use of durable high-quality materials has kept outside maintenance to a minimum while the success of the Clubs' programs has solidified its good standing with the kids of the community. Well-lit by extensive perimeter and clerestory windows, the atmosphere inside is one of bright colors and optimism that kids look forward to. The Club is truly a Positive Place for Kids and is very heavily utilized.
Building Facts:
BOYS & GIRLS CLUB OF GREATER HOLLAND: - GYMNASIUM, GAMES, COMPUTER RM., CAFE, LOBBY, OFFICES, CLASSROOMS, RECEPTION, KITCHEN
SIZE: 32,000 SF
COST: $2.400,000.00
STATUS: COMPLETED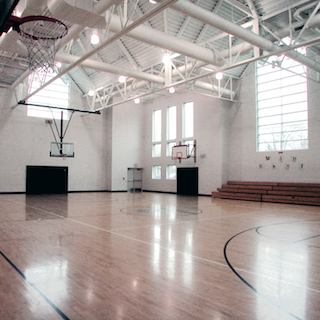 Boys & Girls Club Gymnasium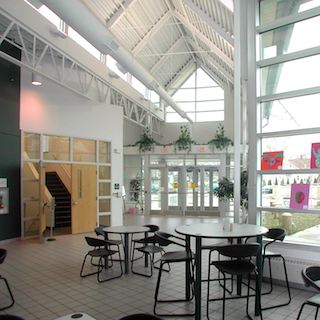 Boys & Girls Club Entrance and Cafe