GenOne Architectural Group: Fifth Third Bank - Zeeland Branch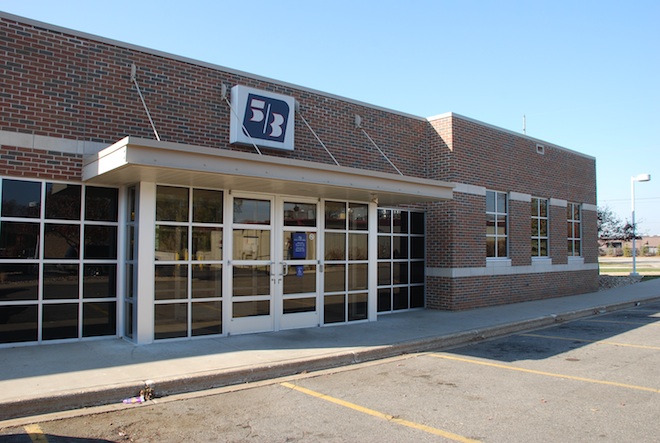 Fifth Third - Zeeland Branch
Fifth Third Bank - Zeeland Branch: Fifth Third Bank had experienced tremendous growth in the Zeeland area, necessitating a sizable expansion and remodeling of their small Zeeland branch. The small and triangular-shaped site presented its share of challenges for the expansion.
The projects' goal was to add additional teller lines, offices, expand the library, and add additional lines for drive-in banking. Along with these requirements, the bank wished to have a fresh, new look that was inviting to the surrounding community.
A considerable amount of fenestration was added to the branch, giving the interior spaces abundant, welcoming natural light. The addition consisted of additional private office spaces, a waiting area for customers, a copy center, restrooms serving the public and a new public main entrance.
Building Facts:
FIFTH THIRD BANK - ZEELAND BRANCH - NEW MAIN PUBLIC ENTRANCE, LOBBY UPGRADES, UPDATED TELLER LINES, NEW OFFICES, NEW WAITING AREA, NEW COPY CENTER, NEW PUBLIC RESTROOM AREA.
SIZE: 895 SF NEW; 3,200 TOTAL AREA
COST: $480,000.00
STATUS: COMPLETED
AWARDS: COMMUNITY IMAGE AWARD FROM CITY OF ZEELAND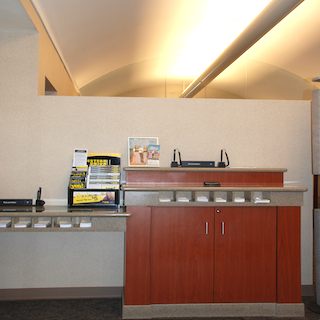 Fifth Third Bank - Lobby
Fifth Third Bank - Main Entrance