GenOne Architectural Group: Dining & Fellowship Hall - Geneva Camp & Retreat
Dining & Fellowship Hall - Geneva Camp & Retreat
Geneva Camp & Retreat - Dining & Fellowship Hall: Camp Geneva is a beautiful wooded site on the Eastern shores of Lake Michigan and has been providing summer camping memories for youth in the Holland area for generations. As the camp has grown in popularity, some of the camps' older buildings were in need of replacement. Amongst these were the Dining and Fellowship Halls, which have been merged into one facility. The desire was to improve traffic flow through the site and improve views to Lake Michigan, while addressing growth and maintaining the camping decor in all new facilities.
The Dining Hall uses cedar stained trim, large glue lam beams, natural fieldstone, colored concrete, a metal standing seam roof and extensive natural lighting to promote the camp look. Inside, the dining space is a beautiful open space with clear-coated glue lam beams, large wood columns in groups of 4, clear coated fir plywood and glass walls, exposed ceiling deck and joists, clerestory windows in the center cupola and a full perimeter deck looking out into the woods and towards the lake.
Below the Dining Hall is a large Fellowship Hall complete with sound and video capabilities, small meeting rooms, a camp store, storage, a project work room, mechanical rooms and restrooms. The entry area offers a soft seating lounge around a field stone fireplace, well lighted by clerestory and large sidewall windows. This building provides the anchor for the Bath House/Pool and Cabins that were built later.
Building Facts:
DINING & FELLOWSHIP HALL - GENEVA CAMP & RETREAT: -DINING ROOM FOR 320, FELLOWSHIP HALL, KITCHEN, OFFICES, LOUNGE, LOBBY, LIVING ROOM & CAMP STORE
SIZE: 24,000 SF
COST: $2,800,000.00
STATUS: COMPLETED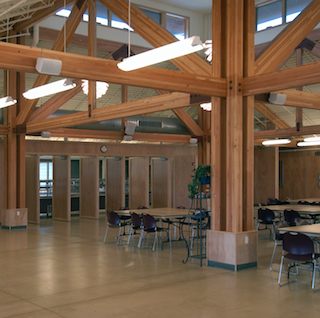 Dining Hall - Geneva Camp & Retreat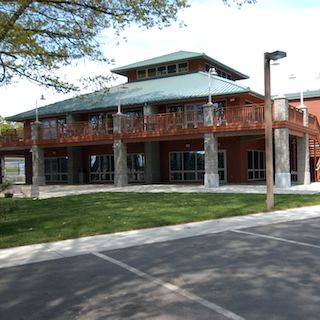 Exterior of Dining & Fellowship Hall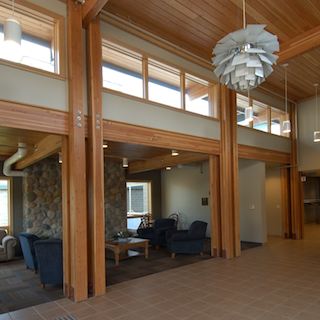 Lobby & Entrance- Geneva Camp & Retreat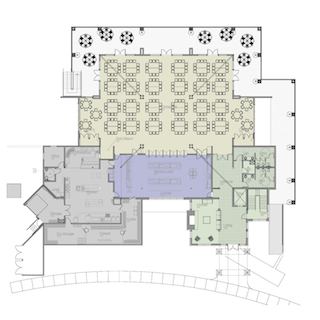 Upper Floor Plan - Dining & Fellowship Hall