GenOne Architectural Group: Shores Gymnasium - Geneva Camp & Retreat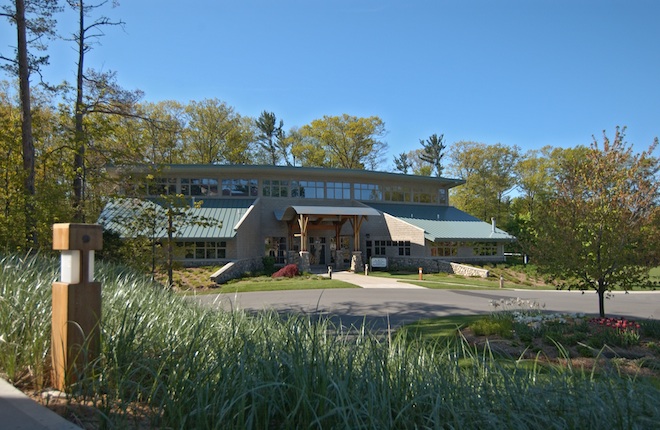 Shore Gymnasium - Geneva Camp & Retreat
Geneva Camp & Retreat - Activity Center: (ARC) Camp Geneva is situated on a beautiful wooded site on the Eastern shores of Lake Michigan and has been a source of fond summer camping memories for generations of youth in the Holland area. As the camp has aged and grown in popularity, some of the first buildings to need replacement were the Dining and Fellowship Halls, which merged into one facility. Also there was a need to provide the campers with a gymnasium and multi-purpose facility and out of that need, the Shores Gymnasium emerged. The common name that was give to this facility is the ARC.
When approaching the gym, you are warmly welcomed into the facility through a unique entrance, commonly referred to as the "Wave". It is a rolling or undulating roof that mimics the wave action from the nearby shores of Lake Michigan, which can be viewed from the ARC's west-facing fenestration.
The multi-purpose facility contains a gymnasium with a full-sized basketball court, 2 volleyball courts and a climbing wall on the facilities' eastern wall. There are generous spaces for gaming, hang-out space for the kids, and a complete toilet, shower and locker facility.
On Sunday mornings, worship services are held at the Center for campers, their families and neighborhood residents. Acoustics are outstanding, and the facility can seat up to 1,000 people.
Building Facts:
SHORES ACTIVITY CENTER (ARC) - GENEVA CAMP & RETREAT: - GYMNASIUM, GAME ROOM, LOCKERS, TOILET ROOMS, AND CLIMBING WALL
SIZE: 12,000 SF
COST: $1,300,000.00
STATUS: COMPLETED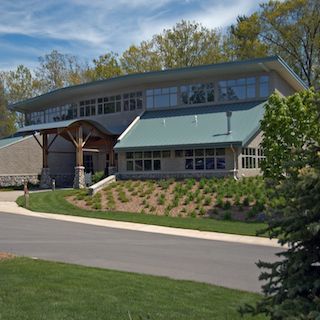 Shore Gymnasium - Geneva Camp & Retreat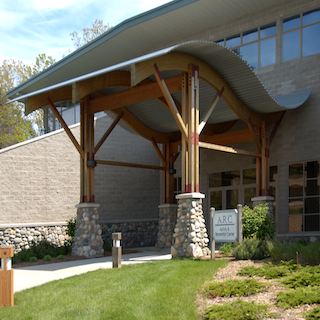 The "Wave" Gymnasium Entrance
View a Virtual 360 Tour of the Camp Geneva Retreat Center!