GenOne Architectural Group: Graafschap Fire Department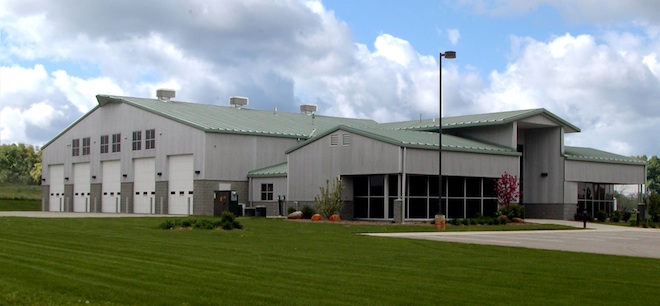 Graafschap Fire Department
Graafschap Fire Department: The criteria for this farming communitys' fire station directed the solution towards a building deemed appropriate for the rural locale. The station shelters 5 large apparatus bays, a hose tower or silo, an office area which includes a day room, storage rooms, radio room, work room, meeting room and chiefs' office.
All roofs are composed of green clad standing seam metal panels with internally drained edge gutters. The vertically-oriented insulated and corrugated steel siding that make up the side walls are turned horizontally for the hose silo. An 8' high base of split faced masonry is used to finish out the farm building materials list and protect the sidewalls from damage from mowers on the exteriors and trucks on the interior.
The masonry also serves as a solid base to anchor the building visually to the grade. Large tinted glass areas in both the apparatus bays and the office areas provide excellent natural lighting and good visual access to the changing weather and landscape outside. This facility was designed to blend into the surround area naturally, and be good neighbor to the surrounding residential area.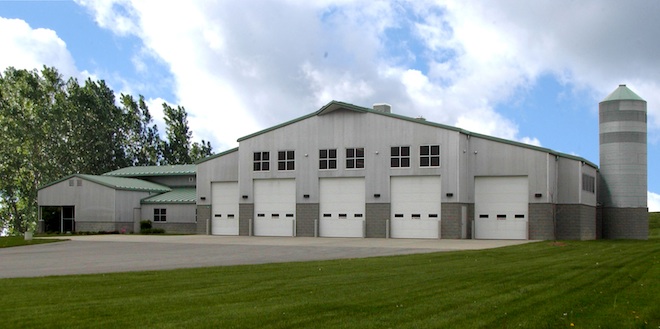 Graafschap Fire Department
Building Facts:
GRAAFSCHAP FIRE DEPARTMENT - PROJECT SCOPE: -5 APPARATUS BAYS, HOSE TOWER, OFFICES, MEETING ROOM, DAY ROOM
SIZE: 12,200 SF
COST: $1,200,000.00
STATUS: COMPLETED