GenOne: Midwest Distribution Center - Herman Miller, Inc.
Midwest Distribution Center- Herman Miller, Inc.
Herman Miller - Midwest Distribution Center: This large furniture order consolidation and warehousing facility was built on 161 acres of former farmland to allow easy access for the hundreds of trucks that would ultimately circulate around it's may shipping/receiving docks.
Landscaping became a crucial element of this project with a large wildlife/detention pond, groves of flowering and native trees, shrub and flower plantings at the office perimeter, and large expanses of native grasses and wildflowers. Several large parking lots for semi-trailers were enhanced with berms, trees, drainage swails and other earth designs to reduce the visual impact of the required paving.
Though economically designed with its exposed steel structure and mechanical/electrical systems, metal sandwich panel walls, and strategically placed clerestory windows, benficial amenities were viewed as high priorities and serve to make this facility a bright and cheerful place to work.
Receiving docks were placed directly across from shipping docks (cross docking) with an order staging area in between for ideal material flow through the facility. Well-lit medium high-bay rows of back-to-back pallet racks offer the safety of wide isles and clear lines of sight to major lift truck pathways. Like no other warehouse you have ever seen, this distribution center remains a very pleasant place to work with abundant natural lighting, numerous views of the landscape from primary work locations ,situated in a park-like setting.
Building Facts:
MIDWEST DISTRIBUTION CENTER - HERMAN MILLER, INC.: - WAREHOUSE, SHIPPING/RECEIVING GENERAL OFFICES, EMPL. BREAK
SIZE: 355,000 SF
COST: $9,875,000.00
STATUS: COMPLETED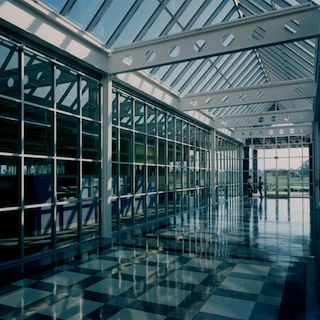 Midwest Distribution Center - Arcade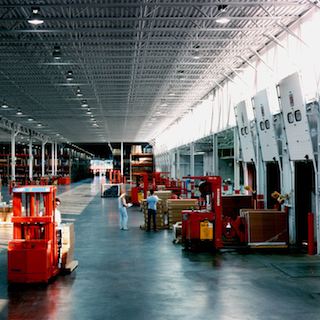 Midwest Distribution Center - Loading Docks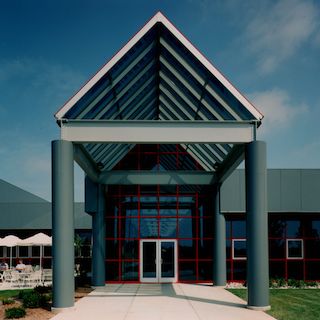 Midwest Distribution Center - Main Entrance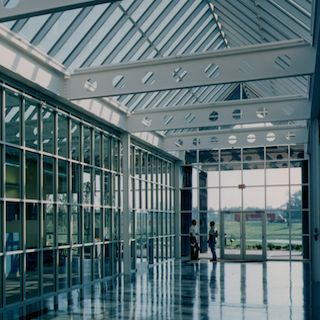 Midwest Distribution Center - Main Entrance