GenOne Architectural Group: The Greenhouse - Herman Miller, Inc.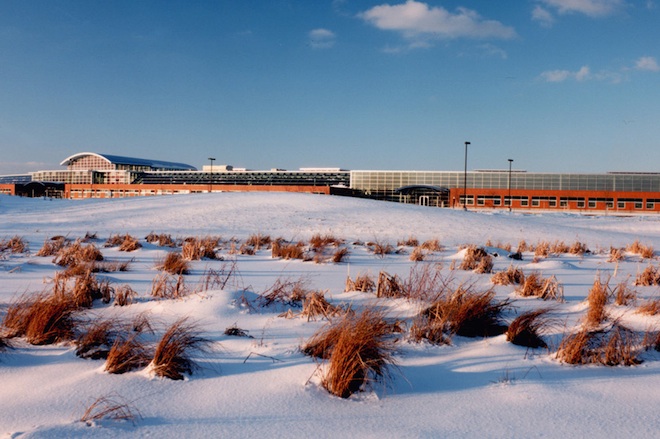 The Greenhouse - Herman Miller, Inc.
Herman Miller - The Greenhouse: Aptly named "The Greenhouse", this large furniture production plant has huge window walls and skylights that brighten the streetscape between office pods and factory operations.
Sited on the same acreage as the Distribution Center, it shares the open park-like setting, the ponds and earth berming, native wildflowers and grasses, and a sense of working within nature, not replacing it. Its' crescent shape follows the natural contour of the low rise hill on the site and faces South to receive good indirect sunlight through its extensive clerestory and office windows. Shop production areas are also well lit with clerestory windows on the North and a number of large (entire bay) skylight monitors spaced throughout the plant. The abundance of natural lighting provides a beneficial work environment for employees and reduces energy costs.
Additional special features of this building include a fitness center, complete with basketball court plus resistance and cardiovascular equipment on the second floor, live bamboo plants growing along the streetscape between offices, a food court area serving several lounge and patio eating areas, a product showroom for visiting customers and a very nice lobby - reception art display entrance area to welcome guests to th facility.
This facility received a "Pioneer Award" from the U.S. Green Building council for its many Green Building features implemented prior to there being a LEED rating system.
Building Facts:
THE GREENHOUSE - HERMAN MILLER, INC.: - MANUFACTURING, PAINT LINE, ASSEMBLY, SHIPPING/RECEIVING, OPEN & PRIVATE OFFICES, TRAINING ROOMS
SIZE: 293,000 SF
COST: $13,085,000.00
STATUS: COMPLETED
The Greenhouse - West Entrance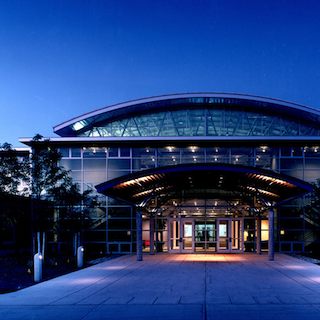 The Greenhouse - Main Entrance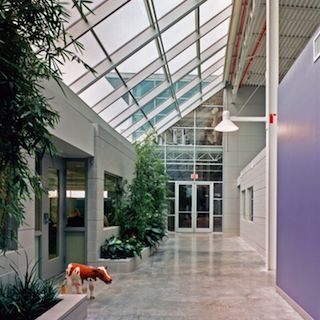 The Greenhouse - The "Street"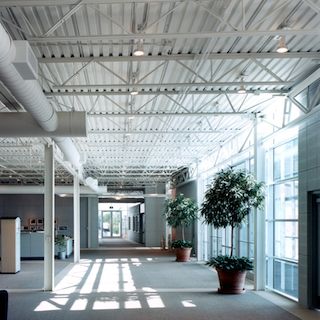 The Greenhouse - Lobby