The Tuscan Country: A GenOne Custom Home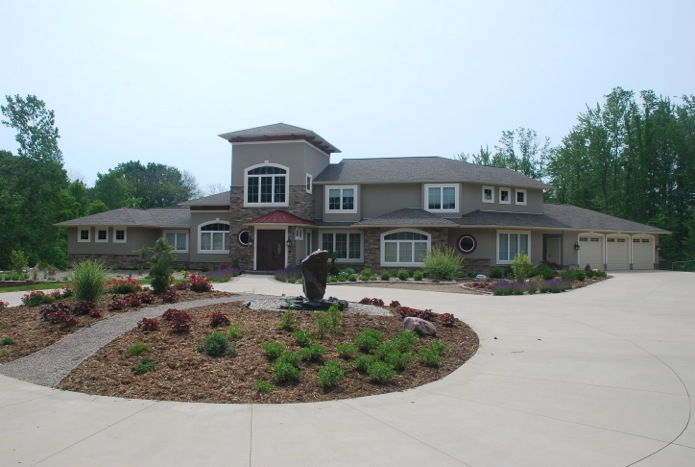 This large custom home was designed for a family with a love and passion for all things Italian; their desire was a home that would reflect the charm and style of a Tuscan villa with all of the amenities and energy-saving attributes of a modern, high-tech home.
The Tuscan region of Italy is known for its culture, beautiful landscapes, artistic legacy and rich traditions. The Tuscan Country home was designed to bring the traditions of the wine-producing region of Italy across the ocean to West Michigan.
While the overall design and decor' of the Tuscan Country home reflect the allure Old World Italian , it is also a home for a real-life family of 6 to live their daily lives in. The home features a large kitchen and dining area, a mudroom with lockers for all family members, dual washers and dryers to keep up with the laundry a family of 6 can produce, a mother-in-law suite, and a breathtaking foyer.
The Tuscan Country home also reflects the personal attentive nature of a GenOne design. The architect, upon meeting the owners for the first time at the vacant home site, and in talking with them of their wants and needs, drew a preliminary layout of a possible home design on the spot (literally on the trunk of his car). The finished home bears a striking resemblance to this very early drawing.
From an energy-efficiency standpoint, the Tuscan Country stands out; though it is a very large home, it was designed to minimize energy use. The entire home is insulated with one inch of foam insulation on its exterior, ensuring an airtight envelope to minimize heating and cooling costs.
The entire home is equipped with automated lighting timers and sensors, and all of the home's appliances are extremely energy-efficient.
Energy, time, and money was saved during construction by situating the home into a natural slope on the property. By eliminating the need for extensive excavation, the property was left largely undisturbed, and the home fits more naturally into its surroundings.
As a full-service custom home design company, GenOne also designed the landscaping to complement the home's Italian design. The Tuscan Country is a home designed to 'wow' all who visit it, while at the same time providing plenty of room for this large family to live, entertain, and grow in.
Return to the main Custom Homes page